Called 08000 790285 to register my iPad SIM. I was told I had called the wrong number despite that being the number on the leaflet in the SIM card packet and that I needed to dial 07973100150.
Called 07973 100150. Spoke to member of staff for a couple of minutes but was cut off
Called 08000 790285 Spent 20 minutes talking to a member of staff who repeatedly asked me for my contract number. I told her I didn't have a contract. She said there should be a contract number written on the SIM card packet. There wasn't. She told me I should call 08000 793000 or 07973 100150. She told me that the latter number was a Freephone number. It is not. She told me that she could not transfer me or pass me to a supervisor. She couldn't help me either. Eventually she hung up.
Called 08000 793000. Told to try 08000 790200
Called 08000 790200. Told to try 07973 100450.
Called 07973 100450 Four times. Had four fruitless conversations Eventually told that I couldn't register as Apple had sent me the wrong SIM card. It was not possible for Orange to send me the correct one. I must therefore return to Apple to get a new one.
Returned to Apple to get replacement SIM card. They were very helpful. Again the leaflet in the pack states that you have to call 08000 790285 to register.
Called 08000 790285. Cut of after 2 minutes
Called 08000 790285. Told that I had to be put through to a different department. Transferred (which I've been told previously is impossible). Eventually had message that they were unable to transfer me to a customer service advisor and was cut off. Maybe it is impossible!
Called 08000 790285. Spoke to someone who just took my SIM card number then put me on hold without warning. Was on hold for about 5 minutes then "Grace" came on the line who asked for Mrs Davies. I told her I was not Mrs Davies. I then gave her my SIM card number again. She said it was not an Orange SIM card and I needed to return to my place of purchase to get a replacement. I told her it clearly was an Orange SIM as it has Orange written on it and came in an Orange packet.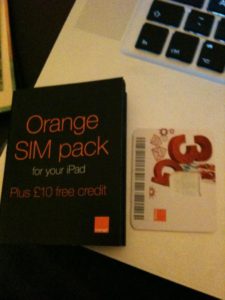 I told her that this was now the second time that I had tried to register an Orange SIM and failed and didn't want to return to the Apple Store again. I asked to speak to a supervisor and she told me the supervisor would not be able to help me and hung up.
Called 08000 790285. Got message that it is not possible to connect you.